19 Feb

Nepal – Travel Diary 5

The testimony of the journey of the Long Distance Sponsorship Manager in Nepal. A mission that features ASIA NEPAL's staff members, the representatives of the various schools in which the Long Distance Sponsorship project is active, but above all the Nepalese girls and children, including those of the 4 schools we built and inaugurated last December in Rasuwa.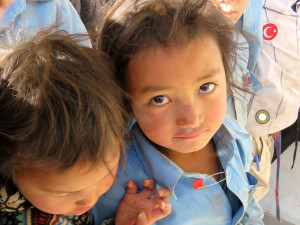 Today, Monday 4 February, I wake up full of energy. The visit to the schools of Namuna and Dupcheshwori yesterday, the path to reach them, the smiles of the people despite their extreme poverty, have given me so much charge, lots of emotions, desire to do and continue to work and collaborate with colleagues and local communities in the best possible way.
Today we leave for Yarsa and the Thangdor School. The "wide path" is different from yesterday: almost all uphill (we touch about 3000 meters above sea level), more arid and rocky and, according to Bijaya, "it seems to support us better", but at the same time we cross many parts more or less recently collapsed. Here, in fact, Nabaraj explains to me, especially during the rainy season, landslides and flooding are very common, also because of the numerous springs and watercourses that flow along the slopes.
Like yesterday in Saramthali, along the way we meet some children who walk towards the school, but fewer villages and cultivated terraces, more shepherds and small herds of goats. We stop to pass a family (parents, two children and a cow) who walks towards the mountaintop, with baskets full of clothes and everything necessary for the seasonal migration.
We reach the school after almost two hours of driving and welcoming us is the president of
the management committee of the school, a man greatly appreciated by the community because he donated part of his land to build the school; a person who still has many ideas on how to improve it further. Together with him there are also two teachers and the school collaborator (a young girl who carries her 6-month old niece on her back) who take part in the meeting.
They are all very attentive and involved and the conversation gives us many ideas on how to help them find the tools and resources to deal with the problems of the school. After the meeting, we can spend time with the children, who curiously catch up with us, and we manage, especially thanks to Bijaya, to entertain them and make them tell us something more about them.
Most of them have to walk a lot to come here every day; the older girls, after school, help the parents both at home and outside, on the fields or with the herds. They are all happy to study here and have great dreams for their future …